I know I'm late but I really didn't think I was going to create a post for today.
It's Blue Monday, but I didn't have anything blue to post...
...but then look who passed by in the lane!
(Seriously that's his name...you couldn't dream up this sort of stuff, honestly)
Now I realise that many of you may never have seen or known a coal man, or that they are still out there.
It's been many, many years since I've seen a Kevin coal man that's for sure.
No, I'm not going to try and guess how many because that's for me to know and you to wonder!
Anyway, I certainly didn't expect to see him come smiling down my lane in his truck or that I'd wave frantically at him to stop!
(I was having fun blowing all the fallen leaves at the time)
If you're a regular visitor here then you'll know that we have a

wood burner

, b
ut we also have an open fire (
in what will be the future studio
) which could use coal as well as logs.
I do love to light this fire because unlike the wood burner you can actually hear it crackle, hiss and it smells wonderful.
So two bags full please Kevin!
But I didn't expect him to swing the load onto his back and walk them into the wood shed! I'd have thought Health & Safety would have been a biggy and this practice would have been superseded by some mechanical contraption to ease the load long ago.
I would have offered to help, but then he seemed so capable!
Personally, I think I'd have driven the truck right up to the door of the wood shed, but then he seemed to think it was okay to walk up the driveway carrying his load.
I wasn't sure if like a chimney sweep it would be lucky to shake his hand...
...so I did just to be on the safe side!
Now why not pop across to see Sally and the other

Blue Monday

posts?
I'm sure you'll have a very happy Monday if you do and they've probably took a lot longer to create their posts.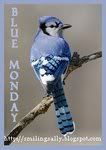 Happy Blue Monday to you all.
I hope you have a great week whatever you have planned!
Have fun...
I'm off to do the lottery just in case!